Towing: The ultimate checklist for every caravanning holiday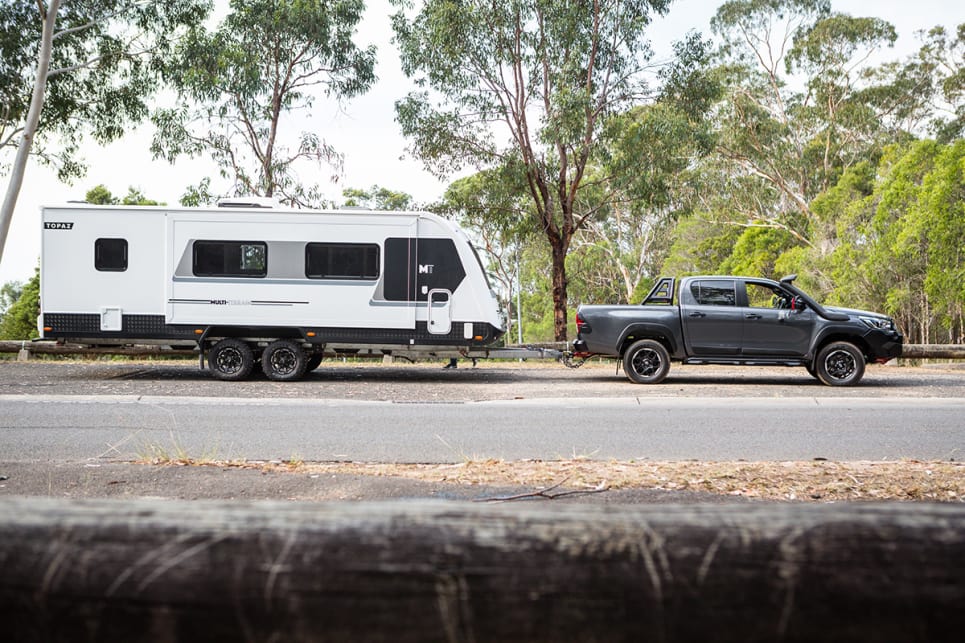 Doing a raft of pre-trip checks on your caravan will reduce the chances of any nasty little problem rearing its ugly head during your caravanning holiday. Here's our comprehensive checklist of what to sort out before you head off. Note: Your checklist will become more personalised as you fine-tune your pre-trip processes with every trip you do.
Check bearings and brakes
Before you set off on any trip that will involve wear and tear not normally associated with day-to-day driving, get a proper, thorough mechanical check done on your vehicle and caravan.
Get your mechanic to check everything and replace anything that is due for it or is in need of it; for instance, get a new battery if your current one is on the wrong side of old.

Do all of your checks on your caravan's wheel bearings and brakes before you leave to reduce the chance of any strife while travelling.
Get your caravan's bearings and brakes checked before you leave on a trip; it's better to discover a problem – and have it fixed – before you depart on a big trip.
Check wheel nuts
Wheel nuts that are not tight enough can end up turning your holiday into a nightmare. Loose wheel nuts at a minimum will damage the wheel and stud threads and at the worst will result in a wheel coming off the caravan while you're towing.

Getting your wheel nuts correctly tightened makes for a safer, more enjoyable trip.
Check wheel nuts before you depart and then, as a good general rule, check again in the first 80-100km or so of your trip.
Use a high-quality torque wrench to ensure you tighten wheel nuts to the recommended correct torque.
Check taillights
Sounds like common sense but you'd be surprised at how many people forget to do this, or simply don't bother. Not clever.
As well as having someone stand behind the caravan while you use them to make sure that they are all functioning as they should, check to make sure that wiring is not loose, corroded or being abraded at the A-frame trailer plug connection.

Thoroughly check taillights, including wiring, assembly and housing, to make sure it's all clean, secure and working properly.
Make sure that the taillight housing is secured to your caravan's bodywork and that it is not cracked, split or showing signs of water ingress.
Check light bulbs and replace any that aren't working. look for obvious problems, such as the pins closing up at the trailer plug.
Plug-in circuit testers, which check that all circuits in a vehicle are working properly, are also worth considering.
Tyre pressure/age
Make sure the tread on all of your tyres – on the tow vehicle and trailer – is more than the minimum roadworthy tread depth of 1.5mm. Make sure they have at least 3.0mm tread depth if you're going on an extended tour. If you're doing much off-road or dirt road touring, and your tyres have less than half their tread depth remaining (around 3.0mm) replace the tyres before you leave. It simply isn't worth the dramas you will have with punctures on your trip.
Regularly check all of the tyre pressures on the tow vehicle – including the spare – and check those on the caravan.

Checking for wear and tear on all tyres – including your caravan's and your tow vehicle's (pictured) – before you travel is crucial. Also monitor all tyre pressures during your trip.
Maintain uniform tyre pressures, as advised by your owner's manual, to suit the conditions. Uneven tyre pressures can affect a vehicle's handling, especially under braking and cornering, so check that all tyres are at the recommended pressure.
Don't use tyres that are more than six years old - even if they have plenty of tread on them - as the risk of a blow-out increases when driving on an aged tyre.
Check tyre pressures on both the tow vehicle and the trailer/caravan prior to setting off each day during a trip, and when you've pulled up for fuel or a break walk around and check them for obvious loss of inflation or damage.
Check all caravan windows
Make sure that all windows and hatches in your caravan open and close smoothly, and then make sure they are always securely locked before you head off. Also, ensure that the TV is locked in position or stored, that the trailer plug is properly and securely connected, and that the coupling is well and truly locked in position.
Slowly move from the front of the trailer, where it's hitched to the tow vehicle, to the rear – scrutinising everything.

Check all windows to make sure they open and close smoothly – and make sure they are all securely locked before you travel.
Do a visual and make sure all windows, latches, hatches and doors are securely fastened, and anything else that may flap, snap or flop out while the trailer is in motion is secured.
Check inside for any loose items or unsecured gear and sort it out.
Check mesh screens for damage

It's better to find and fix any problems in your caravan's mesh screens before you arrive somewhere like this. (image credit: Brendan Batty/Roam)
You don't want to arrive at your destination only to find that there are gaping holes in the mesh screens and you're at the mercy of the millions of sand-flies and mosquitoes at your caravan site. Even rips, slits or fraying mesh at the edges can prove enough of an opening for annoying biting insects so it's best to find and fix any issues before you leave on your trip; proper repairs are always more effective than DIY repairs on the move.
Awning/annexe poles etc

One of your must-do pre-trip checks is to make sure all awnings, poles and annexes are in great working order. (image credit: Nathan Duff)
Make sure that all awning poles and annexe poles are in great working order, all parts are there and that they haven't been damaged, or have any creases in the metal or dings that may prevent them from functioning properly. Again, it's best to discover and remedy that sort of problem prior to driving off and potentially having a real issue with it deeper into your holiday.
What's on your pre-trip caravanning checklist? Tell us in the comments below.