Portable camping fridges: What to look for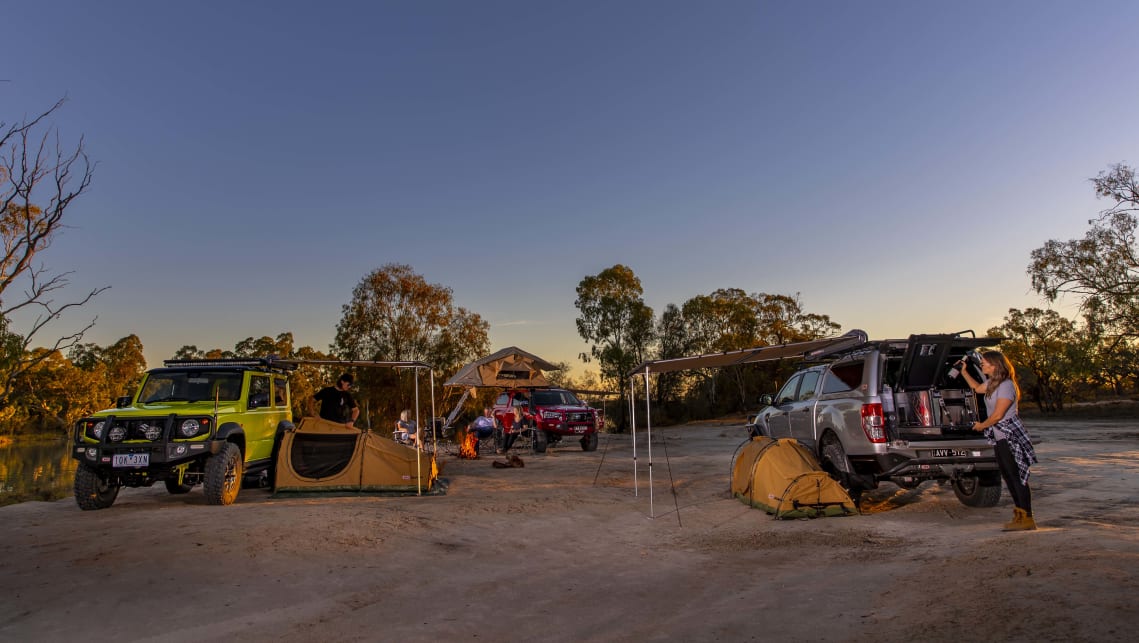 When I was a kid – back in the Stone Age – we relied on an ice-packed esky to keep our food and beverages cold for the duration of a camping trip. Far from ideal, especially when you're away from civilisation for anything longer than a day or two in searing Queensland heat, because ice melts, no matter how well the esky is sheltered from direct sunlight and insulated from the worst effects of the high temps.
Thankfully times have changed in a massive way and, though eskies* certainly still have their uses, a portable camping fridge provides a more versatile solution to the problem of maintaining fresh and refrigerated food and drink and as such it has become the go-to appliance for on- and off-road tourers. (*Fun facts: Kiwis call an esky a chilly bin; South Africans call it a cooler box. There you go – don't ever say I've never taught you anything.)
The portable fridge market is huge and full of every portable fridge and portable fridge freezer you could ever think of, and at various price points and, as with all things, of varying degrees of quality.
Most popular portable fridge compressors run on electricity by way of a 12V supply (from your car battery or caravan set-up for your caravan fridge, or solar panels) or 230V mains power. You also have the option of buying a three-way fridge or gas camping fridge, but we'll focus on vehicle-based 12V fridges in this yarn.
The best camping fridge or camping fridge freezer for you boils down to several factors (including what size of a portable fridge or fridge freezer you need, what power source you will mostly use etc) so, in an effort to take the mystique out of what can be a confusion of choice, here's our guide to portable camping fridges.
What size of portable camping fridge is right for you?
If you're looking for a 12V camping fridge / 12V car fridge you are spoiled for choice, but it's important that you take your time at this crucial stage of the purchase process to focus on the size of the car fridge freezer you'll need.
Small will suit some, large will suit others, and mid-size will be just right for others still.
Director of Melbourne-based and Aussie-owned family company Bushman Fridges, Gary Kottmann, told CarsGuide: "We always recommend getting the smallest fridge you can get away with, rather than the biggest fridge you can fit in the car.
"Choosing compact camping gear is a great way to make things a little easier when you're loading and unloading, especially when you're tired from a long drive, and a small to medium size camping fridge will help with that.
"For most campers, something between a 40L and 60L fridge is a good size to start with. This makes the fridge big enough to hold plenty of goods, but not too heavy to carry, and it won't take up too much precious space in the car or use a lot of power."
According to Gary, anything in range of a 15L–25L small chest fridge "is considered small and is best suited for day-to-day use or up to a weekend for one person".
A 40–60L (medium chest fridge) is the most popular size for camping for a young family or couple.
"You can live out of a fridge this size for two or three days so it's perfect for a long weekend," he said.
An 80L+ (large chest fridge) "is designed for longer term camping or larger families".
"Anything over 80 litres is great for lots of storage, but keep in mind the extra weight when deciding where the fridge will be placed," he said.
Fridge & Freezer vs Fridge

A fridge freezer, like this 35-52L 12V Bushman Fridge, can up your camping game (image: Bushman Fridges).
The next thing to wrap your head around is what internal configuration will suit your lifestyle needs: single zone (one section which can be used as a fridge or freezer only) or dual-zone (two sections which can be used as a fridge or freezer).
The single-zone fridges – which have one main compartment and can be used as a fridge or as a freezer – are the most popular type and are usually set at 4˚C as a large fridge.
"If you cryovac your meat - removing the oxygen from the packaging to extend the shelf life - you can keep this in the fridge section," Gary said.
"However, if you decide that you want to have access to a fridge and a freezer at the same time - rather than one or the other - a dual-zone fridge is for you. A dual-zone fridge is usually divided into two separate sections. Each section can be used as a fridge or freezer."
How to power your camping fridge

Solar panels are a handy additional power source when you're camping (image: Bushman Fridges).
It is possible to run a fridge off your vehicle's starter battery, but the fridge will continue to draw power from it even when the car is switched off, so you risk draining that main battery. The lesson here? Running a fridge off a car battery can leave you in strife.
To avoid that – and for a better 12V fridge arrangement – you'll need at least one auxiliary battery, which will run your fridge and any other 12v accessories, and to keep everything charged and operating it's a good idea to have a battery charger as well or battery pack, so read our battery-related yarns in Adventure for guidance on those subjects.
Gary Kottmann, of Bushman Fridges, said the type of second battery campers need is a deep-cycle battery.
"These kinds of batteries are specifically designed to run appliances such as fridges.
"Batteries are rated in Amp Hours (Ah). It is important for you to know that a deep cycle battery should only be drained up to a maximum of 60% of its rated output.
"For this reason we generally recommend a 120Ah battery for a medium-size camping fridge that has a rated usage of 1Ah per hour. This will get you three days of running time without flattening the battery completely (1Ah per hour x three days = 72Ah)."
When you're out and about your camping fridge relies on 12-volt power, generally from a dual battery set-up in your vehicle (again, to avoid draining your vehicle's starter battery), as well as power from a solar panel if you're heading out for a longer-distance and -duration trip, so you'll effectively have a solar fridge or solar-powered fridge. You'll be looking after the planet, you bloody champion!
Your choice of solar panel is important if you're looking to pursue a bit of solar powered fridge camping.
"For a 120Ah battery, we recommend around 200 to 250 Watts (W) of solar panels," Gary said. "This will easily keep your battery charged even on partly cloudy days. The other option for charging your second battery is using a small petrol generator with a battery charger, although this is a more expensive option than solar.
"That's why many savvy campers who are looking to keep their costs down now choose to go down the solar power route."
For an idea of how to go about figuring out the right solar panels for camping fridges, check out this guide.
He also said that people should seek out an efficiently designed fridge "so it doesn't have to work as hard to keep your food and drink nicely chilled.
"How can you tell an efficient fridge from a non-efficient variant? Look for a lot of air vents! The key to an efficient fridge is getting out the heat, so the more ventilation around the compressor area the better.
"It's also a good idea to check the manufacturer's specifications for average power usage. This is measured in Amp Hours (Ah) and is usually averaged over a 24-hour period.
"Ideally, a good 40L to 60L camping fridge will use less than 1.5 Ah per hour, averaged over 24 hours at 25˚ ambient temperature."
Remember: a 12V fridge does not need to run all day long, so switch it off during the cool of the night to conserve power and if you're camping at a powered campsite plug your fridge into a mains power outlet.
How much does a portable camping fridge cost?
Portable camping fridges can range in price from $200 or so for a rather basic, no-frills 20-litre fridge freezer, to just under $900 for a 15-litre Bushman Roadie portable fridge freezer and through to a 60-litre stainless-steel weatherproof ARB Elements fridge/freezer, "the ultimate 4WDer's fridge", according to ARB, which has a $1600-plus price-tag, and upwards to $2500 for an 85-litre fibreglass Evakool Infinity fridge/freezer.
Portable fridge freezer brands include ARB, Bushman Fridges, Dometic/Waeco, Engel, Kings, Luna, XTM and more.
Where to buy

A camping fridge on a slide is easy to access (image: Brendan Batty).
Beyond the usual suspects – Aldi, BCF, Bunnings and Anaconda – it's well worth checking out mobs such as Bushman Fridges and aftermarket outlets such as ARB and Ironman 4x4 for top-quality products, and even Kings.
Maintenance/repairs
Portable camping fridges may cop a real battering during their 'life' but specific warranty and maintenance terms and conditions will depend on your fridge maker and supplier.
Camping fridge repairs should be undertaken by specialised and authorised personnel.
Gary said a long warranty is a clear sign of a manufacturer's confidence in a product.
"It also means you'll have peace of mind should something go wrong on your trip. While no one wants that, it pays to be prepared for any possible situation when camping. We would recommend a three-year warranty as a minimum. Anything less than this could be a risk."
Read more from our Adventure Guide
Suffice to say, reputable businesses and brands have well-established processes and sales and service networks in place, so that should make your decision about which brand to buy a bit easier.
You'll find plenty of portable, camping or car fridges for sale online but, as with any product, often cheap does not mean cheerful, so make sure you do your full research, read plenty of reviews from reputable sources, ask around … and you should be right.
Note: Special thanks to the staff at Bushman Fridges for their assistance with this yarn.